Tech entrepreneurs have changed the world remarkably in recent decades. Visionaries have introduced products and services that completely altered how business is conducted, how individuals communicate, and even how individuals find information.
Learning about the big movers and shakers can give entrepreneurs inspiration in their own work and teach important lessons they can implement as they build their own companies. Some of the tech entrepreneurs that have truly made an indelible impact on the world include:
1. Steve Jobs
Perhaps the most recognizable tech entrepreneur, Steve Jobs was the man behind Apple. Under his guidance, Apple introduced an incredible array of innovative products, from the Mac to the iPhone. In many ways, Jobs shaped the evolution of technology in the past several decades.
Jobs was also involved with the creation of Pixar Animation Studios. For Jobs, entrepreneurship is about seeing connections where other people do not. He believed that creativity was simply the ability to see an undiscovered connection and then exploit it.
2. Jeff Bezos
Famed for creating Amazon, Jeff Bezos started selling books online in the 1990s and slowly grew his company into the Internet conglomerate that it is today. Amazon continues to push boundaries with new technologies like drone delivery.
Stock in Amazon continues to rise as the company takes on tech giants like Apple in terms of providing excellent digital content. Now one of the richest men in the world, Bezos has recently become heavily involved with philanthropy.
3. Mark Zuckerberg
Mark Zuckerberg has become a household name with the incredible growth of Facebook, the most popular social media website in existence. After coming up with the idea for Facebook in college, he dropped out to develop the company and then had an IPO that raised $16 billion in May 2012.
In more recent years, Zuckerberg has become interested in user information protection and seeks out ways to use Facebook to combat misinformation. In addition, he and his wife have emerged as leading philanthropists in the Bay Area and beyond.
4. Sergey Brin
Best known as the cofounder of Google, Brin became an entrepreneur after years of study in the field of computer science. Together with Larry Page, he reimagined how people could use the Internet and launched a search engine that would change how people find technology for the foreseeable future. Their project was funded by the National Science Foundation before investors ever got involved. Brin is also the cofounder of Sun Microsystems.
5. Elon Musk
The founder of Tesla Motors, Elon Musk introduced the world to the first fully electric sports car. In addition, he was the cofounder of PayPal. Today, Musk also heads SpaceX, a civilian space transport company that is continuing to think outside the box and make something that seems impossible more accessible.
His other ideas include Hyperloop, which could provide new high-speed public transportation options, and SolarCity, which helps make solar energy easier to harvest. Because he is such a forward thinker, it is exciting to think about what ideas he might spearhead in the decades to come.
6. Brian Chesky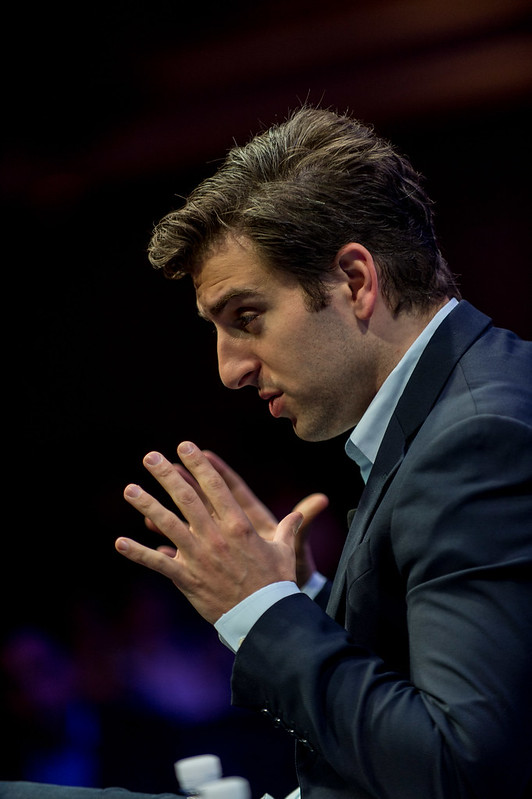 The man behind Airbnb, Brian Chesky, launched the company in 2007. He had the idea for the company when he was strapped for cash and decided to rent out his apartment for some extra income. Airbnb was accepted into Y Combinator in 2008 and the company went international soon thereafter.
By 2015, Chesky's company had earned a valuation of $20 billion and he was recognized as one of the richest entrepreneurs under 40 by Forbes. In addition, TIME featured him on its list of 100 Most Influential People of 2015. Chesky explains that he sees entrepreneurship more as an art than a science and recommends that entrepreneurs go for ventures close to their hearts.
7. Daniel Ek
The created of Spotify, Daniel Ek, forever changed the way people listen to music. Spotify has about 170 million active users, including 75 million subscription users. Ek founded the company to discourage music piracy and provide a low-cost alternative that would actually help artists.
Within two years of launch, Spotify was valued at $4 billion. In 2018, the company had an IPO and earned a market value of $27 billion within a single day of trading. For Ek, entrepreneurship is about solving real problems in a way that makes all parties involved happy.
8. Katrina Lake
Female entrepreneurs have played an important role in Silicon Valley and beyond. One female founder who has earned a lot of attention is Katrina Lake, the women behind Stitch Fix, an online subscription service for fashion. Lake had an IPO for her company in 2017 when it was valued at $2 billion.
Over the years, she has been a loud voice of feminism who continues to push for a better environment for female entrepreneurs. Her mark goes much beyond the success of Stitch Fix, which created an entirely new way of looking at fashion, to include a true cultural change among startups.
9. Jack Dorsey
In 2006, Jack Dorsey founded Twitter, a company that has led to a major shift in the way people communicate. Within four years, the product had more than 105 million users. When Twitter went public in 2013, the stock rose from $26 to $45 per share in the first day of trading.
Dorsey is focused on efficiency and innovation. He believes that the top products are not building new technologies, but rather combining existing ones in compelling ways. For him, Twitter was a way of visualizing communication in real time through a format that promotes lasting but simple exchanges.
10. Travis Kalanick
Best known as the founder of Uber, Travis Kalanick combined cloud computing, geolocation, and smartphone technology in a way that completely changed how many people travel. Uber began operations in 2009 with only three cars for hire. Within the span of three years, the company had expanded to more than 360 cities in 66 countries.
Kalanick was always quick to point out his own shortcomings and said that he often got lost in the weeds of details. Perhaps as a result, he encouraged everyone to be aware of their flaws so that they can work on them continuously.